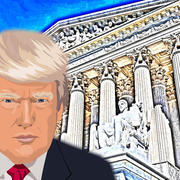 By Greg St. Martin
This story is part of our multi-part series looking at some of the big stories and bright ideas primed to make headlines in 2018.
Politics consumed the national discourse in 2017, as the White House challenged conventional norms, Republicans and Democrats clashed over major pieces of legislation, and special counsel Robert Mueller's investigation loomed large over President Donald Trump's first year in office.
The political stakes will be just as high, if not higher, in 2018, and the Supreme Court will be hearing cases with major implications for the First Amendment, according to Northeastern faculty experts.